I am HOPING that DD is back on track with the potty training...its been just number 1 here lately, BUT MAGICALLY tonight she performed. So DH & I were both singing her potty song followed by a sucker.....We don't allow her to eat candy except for it being her treat for going potty....#1 is something simple-2 smarties...it changes as we run out of candy...as for the #2's its a sucker.

I have been on this reading blogs kick and playing with my Y!360 acct. DH is watching a football a game FSU & Miami. DD is performing her princess act, silly girl. She looks like the statue of liberty with her dad's long shirt on.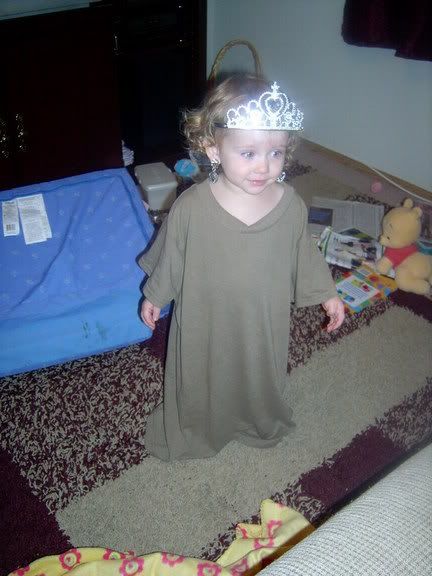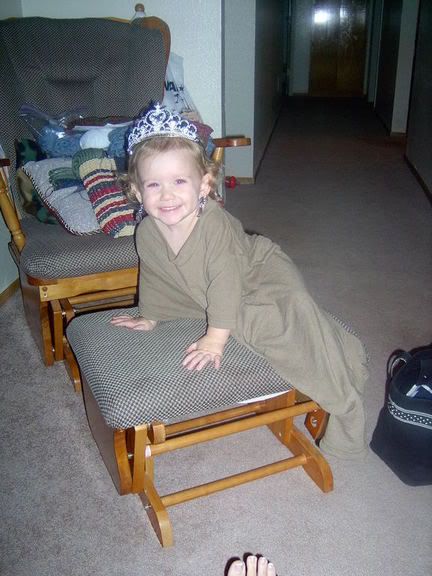 Its been a nice 4 day weekend!! DH has acted like a comedian on and off today. When he gets on a roll boy he sure does it up. If u know him hes got a great personality and can make anyone laugh...so the garbage needs to go out...so he is puttin on his shirt flexing his muscles kissing his muscle and saying see i gotta cover up these guns so the ladies don't come running for me, my reply geez come on..as I roll my eyes...then at dinner he bring that lil comedy back up...glad I did cause any divorces today with these guns as he flexes and kisses his muscle again...what a fruit cake. He makes me laugh I love him so much.


I want dh to make his famous dessert for me...ritz cracker, marshmellow fluff, peanut butter and chocolate! It's been quite some time since he has made them and I was never around when he would make them but I sure was when it was time for them to be ate.

Tomorrow we are gonna be up and out early need to hit the sack at a decent time.