so lets back up to last night...dh passed out on the couch and munchkin was still up running around...so I let her stay up a little longer than normal. I got her ready for bed and read her a book usually daddy does the bedtime stuff. So I get done reading the book and she takes the book and continues to look at it...so I let her lay in bed looking at he book with just a lamp on. She was really tired so I went back in after a few to check on her and she was fast asleep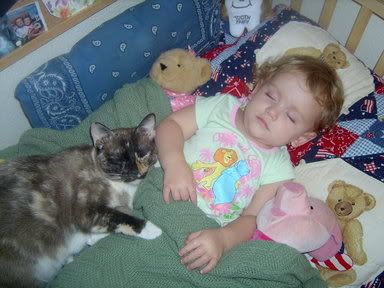 so I proceed to get dh to get off the couch where he fell asleep, to come and sleep comfortably in bed. Well, I am not gonna break by back trying to wake his butt up...so I left him and had the WHOLE bed to myself!!

Then morning comes the alarm clock goes off I go turn it off jump back in bed....went ahead and emptied my bladder...urgency to go in the middle of the night I hate it...only gonna get worse. I hurry so I can jump back into my nice warm spot....dd joins be a couple hrs later.

Then dh comes in....its 9 by now. He starts his negotiating for who is gonna make breakfast....getting dd involved. So we told DD...Daddy Cook...Mommy Cook...we did this for about 10 mins...finally dd said Daddy Cook woohooo...thats my girl. Then proceeds to tell me its cereal for breakfast, is he NUTS. We had cinnamon pancakes...it was really good.

DH says tomorrow it my day to cook...I am gonna try my damnest to get outta it again LMAO...or I'll just pull the cereal crap like he did. He did say he only made pancakes so I would make eggs, sausage, toast....I need a koa pancake house trip this weekend, for a BLT.

At breakfast dh decided that we would clean the house early to enjoy the rest of the weekend. So all 3 of us jumped on it after breakfast and got it done....it looks good and didn't take hardly anytime. Dusting, vacuuming...moving the furniture around etc....it made me wanna re-arrange the living room tho.

I use carpet freshener before vacuuming...DD decided to sprinkle the carpet with laundry detergent, thinking its the stuff mommie sprinkles then vacuums. At least that is what DH thinks..I said, maybe. The belt on the vacuum broke so we made a trip to Walmart, they have almost anything u need.

we had lunch at McD's..they renovated...looks so much better. We picked up some other goodies but we didn't go crazy like usual. Can u believe dd's fish are still alive?? Thats her treat in Walmart if she is good, she gets to go see the fish...what ever works. Munchkin fell asleep in the car on the way home.


The afternoon was great..DD & DH watching little einsteins movie that just came out...dd really likes it...pat pat pat & butterfly haha i love her little voice. I crashed for a nap...dh & dd went out to play with the neighborhood kids...we had dinner and dd ran around with her baby dolls...dh is now watching a movie.

not sure whats going on tomorrow..we shall see.